24 October 2018
Miranda Chauke (Bonus Newspaper) 
Enjoy a luxurious bubble bath with Polokwane Chemical Supplier's (PCS) new bubble bath range. The new bubble bath range, Sensit, is a match made in bubble heaven and it was launched on 22 October 2018, a day when the PCS family also celebrated the company's 25th birthday. The luxurious bubble bath is an improved formula of the original Phatsima bubble bath range and is available in 3 lovely fragrances; Apple Spring, Cherry Blossom and Attraction. (more…)
Wednesday, 31 January 2018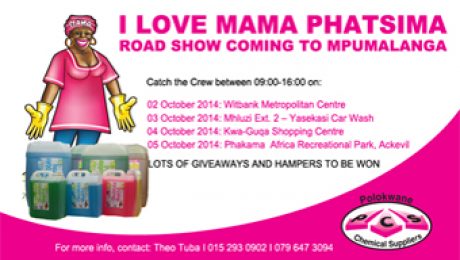 Mama Phatsima Celebrates Product Launch
Polokwane: Polokwane Chemical Suppliers (PCS), the home of Phatsima, announced today that that it has changed its 2L Fabric Softener packaging to better suit the needs of its growing market. Now in an easy to use and carry packaging, Phatsima's 2L Fabric Softeners don't just smell great, they look better than ever.
What's more, the popular industrial cleaning detergent, Universal Cleaner has been improved and added with tough stain removing agent.
PCS has come a long way since its inauguration and this just sets the tone for many more exciting developments to come. With its major expansion closely in the rear, PCS customers have plenty to look forward to with the continuous growth.
Both 2L Fabric Softeners and the newly improved Universal Cleaner will be officially launched on 17 October 2014 at PCS.
PCS is a manufacturer and supplier of domestic and industrial cleaning products. Established in 1993, PCS has gone from humble beginnings, when the manufacturing of chemical cleaning products commenced in a garage, to a fully operational manufacturing facility in the industrial area of Polokwane.
For further Information, please contact:
Maggie Mampane
45 Emerald Street, Futura
Tel: 0152930902 I Cell: 0817158506
Maggie@pcs-phatsima.co.za
www.pcs-phatsima.co.za