Thursday, 02 September 2021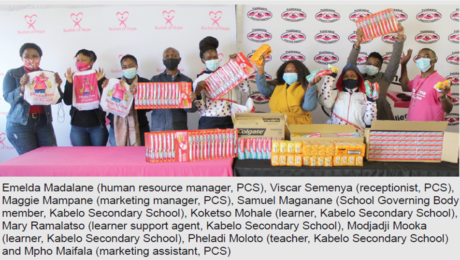 Polokwane Chemical Suppliers (PCS), as
part of their corporate social investment
programme, handed over toiletries
to disadvantaged learners at Kabelo
Secondary School in Polokwane on July
23.
According to PCS marketing manager,
Maggie Mampane, the gesture was
aimed at making a difference in the lives
of the learners at the school. "We have
given them toothpaste, bath soap and
toothbrushes. We are doing this because
we want our youth to remain motivated
and have a vision for a better tomorrow."
Teacher at the school Pheladi Moloto said
they are grateful to PCS for the gesture.
"Most of the learners at the school are
from child-headed families and this will
be handy and it will definitely make a
difference in their lives."
The company also announced Mulalo
Nemataheni from Impowerx Advisory
Services as the winner of the Bucket of
Hope Enterprise Development competition.
The competition is one of the company's
initiatives aimed at empowering young
entrepreneurs and give them a platform to
showcase their entrepreneurial acumen.
The competition was open to all entrepreneurs in the province from June 1 to June 30 and to enter, hopefuls were asked to submit a detailed business profile and motivation.
Mampane said they were impressed by
Nemataheni's business profile.
"It showed that she had a good
understanding of her business. She
understood the scope of her work and
she is a visionary. We were impressed by
her overall work. She is passionate and
focused." Nemataheni walked away with office
equipment that included a chair, a laptop, a
projector and an office table.
Written by Herbert Rachuene
Bonus 29 July – 4 August 2021
Page 5
https://reviewonline-epaper.products.caxton.co.za/wp-content/ftp/epaper_uploads/58/Bonus_Review_29_July_2021/Bonus_Review_29_July_2021.pdf