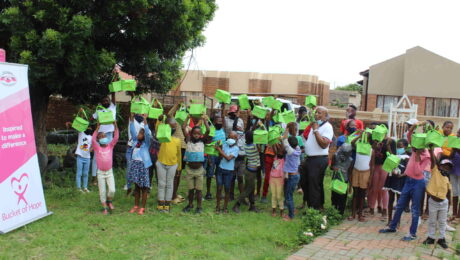 28 January 2022
POLOKWANE CHEMICAL SUPPLIERS PUTTING ON SMILES THIS CHRISTMAS TO THE FAMILIES OF MAHLAHLELANE DROP-IN CENTER, AND REA KGONA DROP-IN CENTER
Christmas is a time for sharing love and joy and what better way to celebrate this most wonderful time of the year than by giving and putting smiles on a few faces. Through the Bucket of Hope Initiative Polokwane Chemical Suppliers continues to make a difference to the two centres we adopted in 2018.
This December 2021 on the 13th and 14th respectively, we handed over 30 grocery hampers to families from the Mahlahlelane drop-in center in Bergnek, and 72 school shoes to children from the Rea Kgona drop-in center in Mankweng.
Rea Kgona Drop-in Centre Manager was so happy to receive school shoes for 72 of their children who have now started the 2022 year with proper shoes.
Mahlahlalane Drop-in Centre Manager, Modipadi Rehab Dimo said she is so excited to receive the grocery hampers as well. "This will definitely help the families of the children that we take care of because most of them earn very little money, or are not working at all. The hampers will ensure that they too will be able to enjoy their Christmas," Dimo concluded.
"Helping to build a cleaner, brighter future for all."
Issued by: Marketing Department from PCS/Phatsima